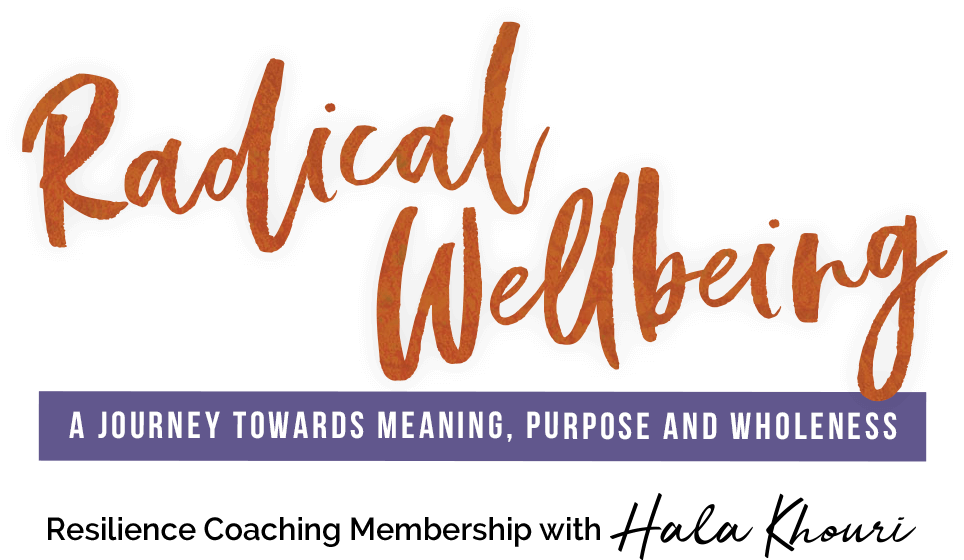 I'm interested in seeing all of us be free from suffering. This doesn't mean bad stuff doesn't happen. Shit happens. Freedom is about knowing we'll be OK when it does. Freedom is about releasing the past so we don't keep reliving it.  Freedom is challenging the foundation of what we are told will make us happy in a culture with lopsided values.
These are intense times, and people seem to be confused and overwhelmed. I'm seeing a lot of anxiety and folks not knowing how to be OK when it feels like the world is not OK. What I've learned is that we have to find a way to let the world into our hearts so we can open up to an even deeper sense of compassion and ease. Like Grace Lee Boggs says, "These are the times to grow our souls." Resisting this growth can cause us more pain. Surrendering to it and learning some tools to navigate it is what I think we need. This has been my work for the past 15 years, and I want to share it with you.
I launched this program in 2020 amidst the pandemic because I know the impact this work has on people. I've seen it firsthand over the past 20 years of doing it. It's actually not that complicated, and I want to make it accessible to more people- not just the folks I see in person. None of this is that new. I didn't invent the things I want to share with you, but, I've been told, I have a way of delivering it that is honest and kind. I've been told that this is my gift and that I should share it.
I know a lot about trauma and how to regulate our body and mind. I know a lot about yoga, meditation, and somatic practices that work. I also know that we cannot heal in isolation. We need community and connection. We need to think about the larger context that we are all a part of and the implications this has on our wellbeing. I believe, like Cornel West says, that "Justice is what love looks like in public." I'm interested in justice for all beings, and I believe our healing has to include this inquiry.
My intention is to take you through a journey of compassionate yet radical self-examination and reflection. Radical means "root," and we have to get to the root of things if we want to heal and be free. Just like a plant has to dig its roots into the ground in order to grow towards the light, we must dig in and explore the unseen, uninvestigated parts of ourselves if we want to be free. We have to call in the parts of ourselves that we've lost or that we've been told aren't good enough. We also need to find a way to be with each other that is nourishing and supportive. We need to recognize our interdependence and live in a way that doesn't let us forget.
Radical Wellbeing is a strong community of people: activists, parents, teachers, folks living with mental health issues, professionals, full-time homemakers, healers, and seekers. Over the past two years, we've built a community that is truly rooted in a grounded perspective on healing that is inclusive and diverse.
We are here to uplift one another and create brave spaces where all of you is welcome!
With love,
Hala has the rare combination of being both academically brilliant and emotionally attuned. She is full of experience, wisdom, and information and embodies the empathy and compassion that allows her students to feel safe in bringing their whole selves to her work. I trust Hala implicitly and recommend literally anything she writes, teaches, or shares.
For someone dealing in a world of much suffering, Hala brings endless joy, wit and loving kindness to everything she does, recognizing the resilience and beauty of the human condition so that we may also feel empowered as we become conscious and healed.
Hala has a knack for seeing people, holding space, bearing witness, being true to herself and the meaningful work that she does and peeling back the covers on the things we need to look at with grace and fierce compassion. The world needs Hala, and while they may not entirely know it yet, they will in good time.
It's rare to find a teacher as soulful and connected as Hala. Her classes and lectures are warm, witty, and full of hope. As a spiritual seeker and someone who's practiced yoga for over 20 years, I'd highly (highly!) recommend checking out anything she has to offer as support along your path.
Hala has done the work and continues to go to the inner places herself that she challenges others to explore within themselves. This combination makes her both accessible and real.
I am endlessly grateful for ALL you restored in me. Thank-you for all you constantly to bring peace and deliver justice in this world. Through you I am able to feel the place of acceptance and reside in resilience. Anyone who trains with you gives themselves a gift that will resonate within their soul for lifetimes.
This program is designed to get you to build some habits that can help you live your life in a grounded, authentic, and meaningful way. My hope is that beyond that it allows you to live a life where you feel you can thrive. By thrive I mean that I hope that you feel that your life is well lived and that it is a reflection of who you are at your core- not who you think you should be or who society says you should be. I also hope that this program helps you be a nice person- not some arrogant person who thinks you're better than everyone because you did an online program on authenticity.
The information and practices I'll be offering each month are inspired by my experience and studies of psychology, neuroscience, yoga, communication, and social justice. 
When you sign up, you'll have access to archives of 24 months of talks and practices built around specific themes. I suggest you pick a theme each month to work with at your own pace. Here are some of the themes:
Every month there are also 3 live sessions with me. All classes are recorded and will be available in the membership portal so that you can access them any time, whether you joined the sessions live or not. (note: community circle and coaching calls are not recorded)
MONDAY SWEATY PRACTICE (9:15amPT | 12:15pmET; 60min)
Start your month off with a vigorous movement practice. We'll do yoga, functional pilates, dance, whatever it takes to move and stabilize our bodies, minds, and hearts!
SATURDAY RITUAL CLASS (9amPT | 12pmET; 60min + optional 30min community connection circle immediately following)
This gentle, ritual class is a chance to connect to your breath, body, and being as well as to each other. We'll go through a themed practice together, and then you have the option to stick around for a community check-in circle afterwards.
THURSDAY COMMUNITY CALL (time alternates between 9:15amPT | 12:15pmET and 4pmPT | 7pmET)
This is a community circle to check in about our month's theme and anything else that is present for you.
It won't be too much, I promise. In fact, from my experience, small, incremental change is way more long lasting than big, quick change. It can be powerful to go through this process with a friend or even a group of friends. Not only can you support each other through it, you can develop a shared language and understanding that can allow you to take the information even deeper.
What are the potential benefits?
My hope for you is that doing this program can help you have more of these things:
Feeling like your life is meaningful and purposeful
Having tools to manage stress and anxiety
Feeling less overwhelmed and more grounded & inspired
Feeling like you're part of a community of like-minded yet diverse people
Cultivating relationships that are truly connected
Being a better friend, spouse, parent, human
Engaging with the world in a way that reflects your values
Thriving
Joy!
My methodology is based in three things: self-awareness, embodiment and critical consciousness.
Carl Jung said that if we don't make the unconscious conscious we will experience it as fate.  What he meant was that so much of how we experience the outside world is a reflection of what is going on inside of us. Not all of it, but a substantial amount.  When we don't the work of self-investigation and self-awareness, it can feel like life is happening to us and we're not in charge at all.
This program will ask you to reflect on yourself with radical honestly. We all have parts of us we feel ashamed of and want to hide, often it's precisely in these places where our liberation resides. I think of self-awareness as a super power.  Understanding our inner workings is a big part of this program.
Not everything is a product of your own personal psychology. We live in a world shaped by politics and culture. Each of us is impacted differently by this- and to pretend that we're all dealing with the same stuff is unfair. Some of us are carrying a heavier load than others. For some of us the load is our personal and familial experiences, for others its more about how we've been treated by the culture and the world at large. It's important to explore this so that we can cultivate empathy for all the different experiences people have.  Critical consciousness asks us to examine the context of our lives as a way to get a full picture of the dynamics that shape us.
We can change our minds, but in order to truly transform we have to change our body. By body, I don't mean your butt and abs, I mean your nervous system.  Your felt sense. This is also called interoception. Interoception is our capacity to feel what's happening inside of us. To feel and trust the signals of our body to guide us. Our body is our GPS!
Embodies practices like yoga, somatic work, breathwork and even dance help to literally rewire the nervous system so we can be more self-regulated and resilient. My work is heavily based in Somatic Experiencing, which is a methodology I'm trained in and have been working in for almost two decades.
What do I get with my monthly membership?
Access to over a hundred 75-minute full yoga practices (half are gentle, half are vigorous)
Access to 24 themed short practices, meditations, and talks; this also includes self-reflection exercises and extra resources on the theme
A live monthly community/coaching call where you'll have the chance to talk with me about what's going on for you
2 live yoga & movement classes a month
Free admission to special events
We also have Affinity Groups as well as a private Facebook Group where you can connect with others engaging in the material so you can share stories and inspiration with each other. This path is way more powerful when done in community!
SLIDING SCALE Membership Pricing
Monthly Plans
6-MONTH PLAN
You decide how much you can pay. I trust you to pay what you can afford. The actual cost of a membership is $35/month (Sustainer rate). If you can't pay that, then you can pay $25/month (Community rate). If you can pay more, it allows me to offer this sliding scale. At $45/month (Supporter rate) you support scholarships that allow others to join!
You decide how much you can pay. I trust you to pay what you can afford. The actual cost of a membership is $35/month (Sustainer rate). If you can't pay that, then you can pay $25/month (Community rate). If you can pay more, it allows me to offer this sliding scale. At $40/month (Supporter rate) you support scholarships that allow others to join!
Hala has been an incredible help to me on my journey towards self-acceptance and freedom from my anxiety. She is wise, compassionate and so easy to relate to and talk to. Her work continues to inspire me and help me. I highly recommend her to anyone in need of emotional and/or physical support in their healing journey.
Hala is an amazing teacher. Her classes are transformational, and her teaching is authentic, real and powerful. I feel SO GOOD after taking them, highly recommend.
Within two online yoga classes with Hala, I had a much clearer understanding of the healing concepts I'd been learning over the years but more importantly got a real visceral sense that it's possible for me to manage my own activation. Hala's expertise as well as her warmth are a gift and I'm so grateful it's going to be available more widely!
Hala is one of the quintessential yoga and meditation teachers. Her understanding of the intersection of trauma, yoga, and social justice allows her to create beautiful, brave spaces for deep personal and interpersonal inquiry and fosters growth in her clients and students. I am eternally grateful to have spent time learning from and working with Hala.
Hala is an all around healer of people and planet, bursting with love, light, and insight.
Hala changed my life! Let her inspire you too! You will never look back!!
Hala has always been a trailblazer and has fought endlessly for the rights of disenfranchised folks across the globe. Not to mention she is the only person who can get me to do yoga. She is a magical warrior queen and you need to come get all of the gems that she has to share!
Frequently Asked Questions
What do I get as a member of Radical Wellbeing?
You will have access to over a hundred 75-minute full yoga practices (half are gentle, half are vigorous), as well as an archive of 24 months of themed short practices, meditations, and talks; this also includes self-reflection exercises and extra resources on each theme. You also get 2 live yoga & movement classes a month + a live monthly community & coaching call where you'll have the chance to talk with me about what's going on for you. Additionally, you'll get free admission to special events and can join our private Facebook group and/or affinity groups where you can connect with others in the community!
When and what is the live community call?
Every month (usually the third or fourth Thursday), we will have a chance to gather together on a live call. Everyone will have the option to put their camera on so we can see each other and share a bit.  Each month will be different. We will always have some way to connect during the call. For example, sometimes you may go into breakout groups together to check in and share, then I'll share some sort of practice or talk with you.  The live call topics are created based on feedback I'm getting from you all about what you are needing.  They are meant to support community building.
Do I get one-on-one time with Hala?
No, I wish I could spend one-on-one time with everyone! But given the size of the community, that's not possible. There will be some customization based on what I'm hearing from community members, and I will engage as much as I can on our Facebook page. I do my best to thoughtfully respond to any emails. The best way to reach out is on our community calls or in our Facebook group.
I am really busy. I'm not sure I have time to commit to something like this.
Although I want to encourage everyone to put their heart and soul into this work, I know many of us already feel overextended. I also know that sustainable healing happens in small increments that we are able to maintain, not huge changes that never really stick. The live monthly classes and calls (3 total and all are optional to attend live) are 60 minutes long. And the information and practices in the monthly archives are presented in manageable chunks; most of the videos are 10-15 minutes long.  The suggested "homework" is usually something small that I invite you to focus on for.  I don't want this stuff to be a source of stress for you, but rather inspiration delivered in an accessible and depthful way.
Is this program just for people who are really struggling? I think I'm doing OK, but I'm curious about the topics and I love your teaching.
In my own journey, I've found that at every stage of my healing, I've gotten something different out of the tools I'm going to share with you. When I'm in crisis, they are like a lifeboat, helping keep my head above water. And when I'm doing well, I have the space to dig a little deeper and see what else may be going on for me and how I might use the tools in a new way. Plus, we don't always have to be looking for what's wrong that we need to fix. It can feel good just to be in community with like-minded people. For some of you, finding this community might be the most important part.
Is this program appropriate for people with serious mental health issues?
This program is not meant to replace therapy with a trained mental health provider. If you are struggling with mental health issues, please consult with your therapist, if you have one, to determine if this right for you. Even though I'm a therapist, there's no way I can ethically and safely provide the containment that a one-on-one session can. This work can be appropriate for people struggling with anxiety and depression and other mental health issues. If you don't have a provider that you are working with and are concerned that an online forum may not be right for you, you can email me at hala@radicalwellbeing.com
What is the price of membership?
The monthly fee for membership is offered on a sliding scale. The Sustainer rate is the actual cost, which is $35/month. If that is not affordable, you can choose the Supported rate which is $25/month. If you can pay it forward and pay the Supporter rate of $40/month, it allows me to offer scholarships and the Supported Rate.
What if I can't afford the Supported rate?
No one will be turned away if they cannot pay. If $25/ month is not possible for you, you can email Ginny, my fabulous program director and community support person, and ask for a reduced rate. We won't ask a lot of questions; we trust that folks will pay what they can. You can reach Ginny at ginny@halakhouri.com
Do I get charged automatically every month?
Yes, with our monthly plans, your first payment will be due the day you join. Your membership will automatically continue and renew on the same day each month for as long as you choose to remain a member.
Can I cancel my membership?
Yes, you can cancel at any time. There are no contracts, cancellation fees, or commitments. 
To cancel, simply go to the ACCOUNT tab in your portal, then to MY ORDERS and scroll to the bottom of the page.
When does the new content for the month become available?
The new monthly theme/topic and all related content is released on the 10th of each month.
How long do I have access to the content?
You will have access to the content as long as you are an active member. Content will not be accessible if your account is frozen, inactive, or cancelled.
Hala Khouri
Hala Khouri, M.A., SEP, E-RYT, has been teaching yoga and the movement arts for over 25 years and has been doing clinical work and trainings for 15 years. She earned her B.A. in Psychology from Columbia University and her M.A. in Counseling Psychology and M.A. in Community Psychology from Pacifica Graduate Institute. Hala is trained in Somatic Experiencing, a body-based psychotherapy that helps resolve trauma and its symptoms.

Hala is a co-founder of Off the Mat, Into the World (a training organization that bridges yoga and activism within a social justice framework) and Collective Resilience (a trauma-informed yoga and somatics training program). She leads trauma-informed yoga trainings nationally. She has been in private practice for over 10 years working with individuals and couples. Hala also works with A Thousand Joys, training direct service providers and educators to be trauma-informed and culturally responsive. She is a sought-after speaker and trainer on the subject of trauma, yoga, and social justice. She lives in Venice, CA with her husband and two sons.